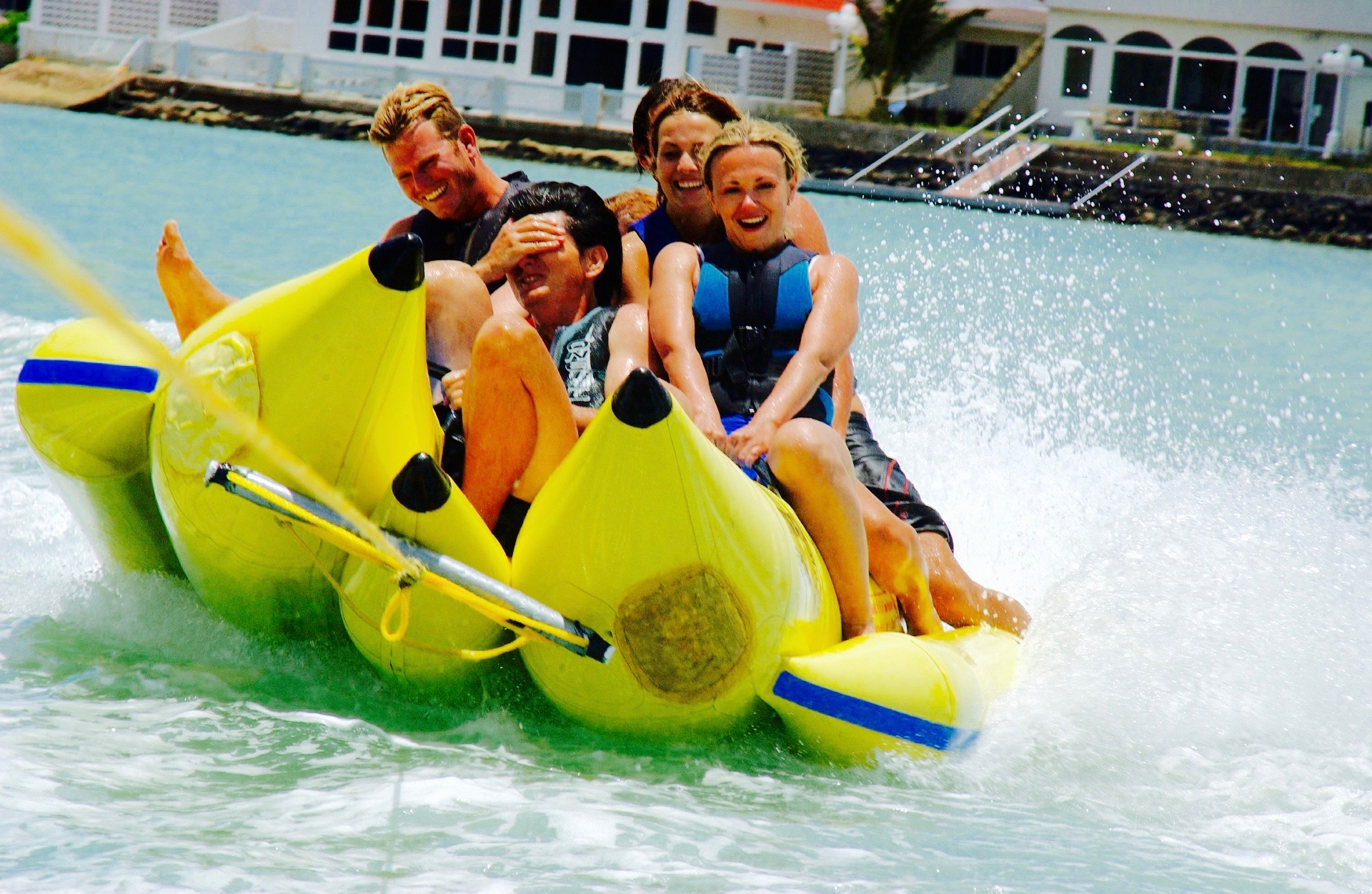 Water Activities and Sports
Your outing won't be finished, particularly for those of you searching for some adrenaline, without attempting our water sports.
We offer water skiing, wakeboarding and Banana pontoons. Ensure when considering doing these that we do offer it with the suitable sanction. Whether it is the first occasion when you attempt or an affair individual, our skipper will give you master tips at no additional expense.
Both Wake Boarding and Water Skiing can be accessible on the greater part of our sanctions at an extra cost and there is no preferred approach to appreciate it over off the back of an extravagance yacht.
The Banana pontoon is most likely the record-breaking most loved for children and the yacht will have one or a greater amount of these sensational toys for all the family to appreciate.
On the off chance that this is insufficient, you can employ a super Jet Ski to go with any contract for the entire day with boundless fuel.
Reef Snorkeling
Thailand is celebrated for its miles of immaculate, sandy shorelines where individuals spend a day on relaxing on the seashore. Yet, only seaward, underneath the water blue and constantly clear at high tide, you will discover excellent tropical multi shaded coral and fish of all shape and sizes that numerous fantasy to see. Ensure if this action is on top of your rundown, that you consider Koh Rin, Koh Khram, Koh Man Wichai, or/and Koh Phai, which are surely understand for their submerged encounters.
For those of you that are not a major devotee of swimming in the ocean, we give you the best quality life coats and snorkeling gear giving you the best experience you merit.
Snorkeling apparatus are given on the greater part of our armada so you don't have to stress, we will be completely prepared and prepared to furnish you with the rigging at whatever time you have a craving for investigating the submerged world.
Jet Ski Tour
We at Svensun Travel Yacht Charter likewise have the likelihood to offer you presumably the most vital excursion! You have the chance to visit six or seven Tropical islands all in your day on the water!
You will have the capacity to investigate the Pattaya islands on Jet Ski's with quick energizing entry. For security reasons anyway, we restrict the quantity of rider on our Jet Ski's and you will better appreciate the experience.
An aide will demonstrat to you around and will be close by to help you and your gathering all through this awesome open door.
Fishing
It is understood that fish are continually looking for cooler waters, making October to March the perfect time to go angling in Thailand.
In the event that angling is your obsession, both Koh Phai and Koh Khram are flawless areas and our chiefs know precisely where to discover them. Common catch incorporate are little edible Yellow Tail albeit expansive fish including Barracuda, Pomfret, Tuna, Pompano, Queen fish, King Mackerel, Groupers, Cobia, Snappers and Sailfish are in some cases got.
One intriguing approach to angle in those territories that just the nearby know is to utilize crisp uncleaned squid or live fish as draw, contingent upon the day, current and the general climate conditions. Be prepared to get your fantasy fish and again our staff is here in the event that you require anything or any data.
Scuba Diving
Making the plunge and around the Pattaya archipelago is an amazing background and is open verging on each day of the year. You can discover wrecks, coral reef, tropical fish and who recognizes what else. Thailand is surely understood for its wreck jump. You can discover World War II depressed pontoons for those that need to make an additional stride.
Plunging is offered on a number of our vessels and our group individuals are regularly affirmed jump teachers.
We plan to please everybody and we give our visit without sprinting and are not compelled by time. We need you to feel calm en make the most of your destination; its shorelines and simply unwinding ought to likewise be an imperative matter of your day. We are after every one of the a private sanction and in this manner ensure an incredible individual administration, with our very much prepared and qualified team.
Kayaking & Canoeing
Need to take some time off and paddle out in the sea and get more cozy with the various islands ocean life and practice all while tanning, kayaking would be an unquestionable requirement and let you think about while drifting the turquoise ocean water.
We offer fantastic kayaks and would gladly give them to you. Appreciate paddling around a portion of the island shores on quiet level water with an incredible perspective of the encompassing regions to get a more critical take a gander at the island.
Underwater Spearshot
This is not a game for everybody but rather is still an exciting game for those of you that don't care for sitting tight for your fish to nibble. Here you pursue the fish you need. In addition to the fact that it is testing, you are in control and your catch is ensured to feel additionally remunerating.
After a short security preparation and preparatory preparing you'll be off on a submerged chasing enterprise.
Our group will begin by showing you which fish can be shot and which ought not, how to securely load the lance firearm while submerged, ensure you and your kindred seekers keep safe from the lance weapon at all times and evacuating and taking care of a fish after it has been shot. Lance angling obligation regarding everybody's security and maintaining a strategic distance from any devastation of coral is the principle center of our groups directions.
Romantic & Party Event
At the point when time is constrained, yet you require a high effect corporate or get-together, Svensun Travel Yacht Charter can organize a marina side occasion on one of the top of the line extravagance pontoons from our service.
Awesome for item dispatches, wedding gathering, birthday festivities, corporate preparing, classes, after gatherings, group practices and delighted in on a multi million baht yacht and not the conventional lodging room.
0